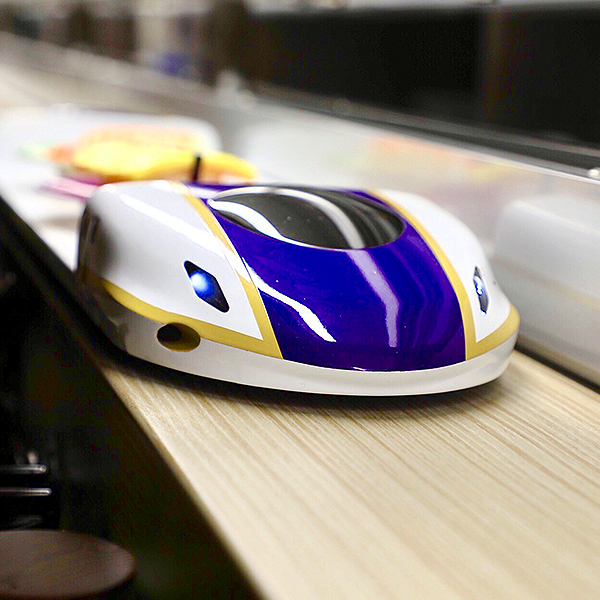 Automated Express Food Delivery System
AUTOMATICALLY DELIVER MEALS FROM KITCHEN.
Automated food delivery train takes the place of food runner totally. Automated train never gets tired of delivering dishes, never slow down the speed to the diners' table. Once setting up, machine never go wrong, never spill full glass of water. 100% effort with 0 error that's what human can't achieve. Automated food delivery train carries any food, cheese, cakes, sushi, hot pot, noodle bowl.
---
Advantage
Any type of restaurant is workable
Food deliver to designated table in seconds, maximize table turnover
Never spill drinks
Decrease the personnel cost by 50%
Avoid any accidents caused by manual delivery
Fashion, interesting, and eye-catching
Easily blow up social media by customize your own automated train
Hong-Chiang's express food delivery system can be divided into several categories according to different needs:
1. Straight Line Bullet Train Delivery System: Each express sushi train is specialty, including Shinkansen, High Speed Rail, Mini Cooper, Van...etc., This express sushi train can also be customized according to restaurant surroundings, interior design, brand image, or any specific desires. Using express sushi train can provide customers with visual sensations along with interesting interactions during food delivering and upgrade the dining experiences to the next level.We can provide you with reasonable commercial space utilization based on your store design.
2. Turnable Bullet Train Delivery System: To adapt various space availability, Hong-Chiang also offers turning express sushi trains. We can provide special designs based on different floor plans, and the turning express sushi train can be customized according to customer's desire or interior style, too.
3. Express Food Delivery Conveyor Belt: Hong-Chiang offers express food delivery lane system, using motor to power the food conveyor belt and delivering objects or meals to the designated location. The objects can be in various shapes, and the delivery is steady and fast!
Hong-Chiang's Automatic Express Delivery System can be applied in not only restaurants but also other multiple industries, such as industry parts transportation, logistic arrangements, and mail distributions…etc. This automatic express delivery system can help owners decrease personnel cost, shorten the delivery time, reduce the overall working hours, and improve the operational efficiency!
Gallery
Epidemic Prevention Bullet Train! Intelligent Automated Express Food Delivery System!
The most trendy of the automatic food delivery system!
Download
Download

Download
Automated Express Food Delivery System | Bullet Train Delivery System (Sushi Train)" and "Sushi Conveyor Belt Manufacturer - Hong Chiang Technology
Based in Taiwan since 2004, Hong Chiang Technology Co., LTD is a Automated Express Food Delivery System | restaurant automatic system manufacturer that is specialized in providing conveyor belts for sushi bars and dine in restaurants, as well as straight line and turnable high-speed sushi trains. For sushi conveyor belts, there are magnetic, chain, optional and sushi plate. They also have food delivery robots and ordering systems.
Sold in over 40 countries, Hong Chiang has been focusing on various automated system development to help different restaurants and other industries reduce labor costs and increase competitive capacity. The unique ability to design and innovate new equipment for Automated Food Delivery System, especially "Bullet Train Delivery System (Sushi Train)" and "Sushi Conveyor Belt".
Hong Chiang Technology has been offering customers restaurant automated system since 2004, both with advanced technology and 18 years of experience, Hong Chiang Technology ensures each customer's demands are met.