Best Sale
Hong Chiang Banquet Magnetic Sushi Conveyor in UAE Introduction
Hong Chiang Technology Industry Co., LTD is Taiwan supplier and manufacturer in Conveyor Belt Sushi and Automated Food Delivery Industry. Hong Chiang has been offering our customers high quality Automatic system, Sushi Conveyor, Conveyor belt sushi, Sushi Train, Display Conveyor, Express delivery system, Made in Taiwan, Sushi machine, Tableware, Optional equipment, Order system since 2004. With both advanced technology and 14 years experience, Hong Chiang always make sure to meet each customer's demand.
Banquet Magnetic Sushi Conveyor in UAE
2015/04/07
Hong Chiang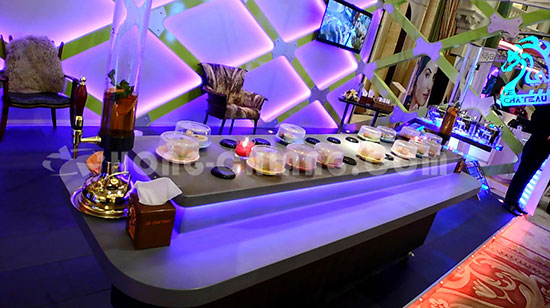 Mobile magnetic sushi conveyor can be used for banquet and exhibition purpose.

It is suitable for any occasions.

The counter top is chosen high class material –Spain Sile Stone-which can match the elegant exterior design.

Besides, the conveyor is also decorated by LED light with purple, green, red and blue color.

By using dynamic display, it not only create a unique visual effect but also attract customers' attention.