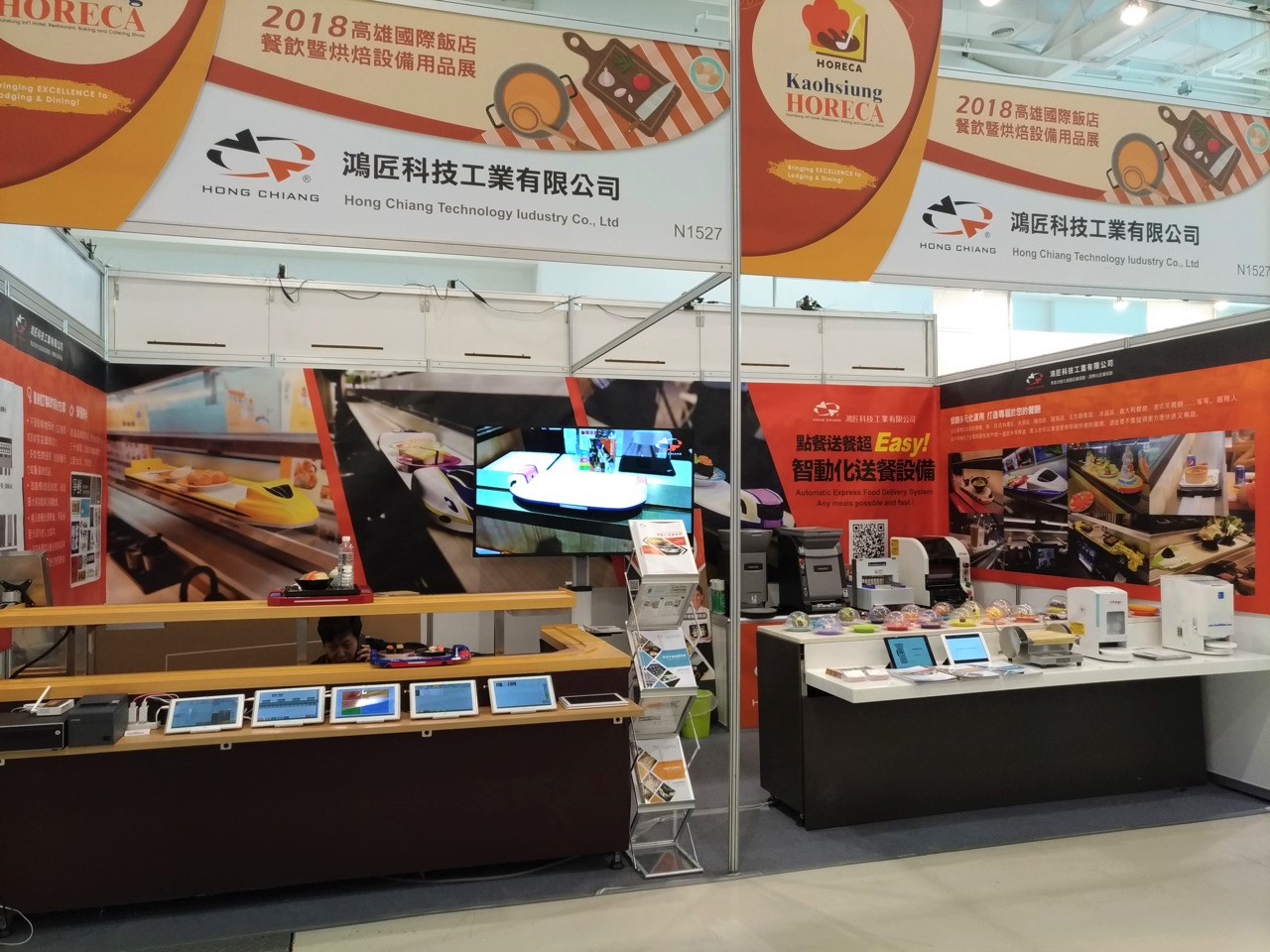 2018 Kaohsiung Int'l Hotel, Restaurant, Baking and Catering Show
Kaohsiung! We are Coming! 2018 Kaohsiung Int'l Hotel, Restaurant, Baking and Catering Show
---
25 Oct, 2018
In the trend of unmanned restaurants, the indispensable is the automatic catering equipment. In addition to the labor cost savings, the automation equipment of Hongshi Technology can improve your work efficiency! In the 2018 Kaohsiung Int'l Hotel, Restaurant, Baking and Catering Show, in addition to the latest trends of intelligent equipment, trendy magnetic turntables, as well as easy-to-use sushi robots and smart tablet ordering system, the whole set of equipment can make Your restaurant is more technological and keeps up with the new era! Welcome to the grand event!
2018 Kaohsiung Int'l Hotel, Restaurant, Baking and Catering Show (KAOHSIUNG HORECA)
Show Date:Oct. 25 (Thu) - 28(Sun), 2018
Show Hour:
Oct. 25-27: 10 am - 6 pm
Oct. 28: 10 am - 5 pm
Entry:
1.For professional visitors in related industries:
• Please register online www.KaohsiungHORECA.com.tw and collect your badge with two name cards onsite.
• Or register on site with two of your business cards to collect your admission badge.
2.For general public visitors: admission fee is required.
Venue:
Kaohsiung Exhibition Center
(No.39, Chenggong 2nd Rd., Qianzhen Dist., Kaohsiung City 806, Taiwan)
Exhibit Category:
Hospitality/ Food Service Equipment & Supplies
Machinery, Equipment, Facilities, Accessories and Supplies for Hotel / Restaurant / Bakery / Catering / laundry related sectors, Tea-Coffee and related Appliance
Events Highlights:
1.Pre-show press conference
2.Opening ceremony
Advantages
Offering precise deliver locations, and increasing turnover rate.
The delivery is very smooth, no need to worry about plates spilled.
Decreasing the personnel cost by 50%.
Avoiding any accidents from manual delivery.
Fashion and interesting, and eye-catching.
Gaining publicity, and Buzz Marketing.
Hong Chiang Technology| Intelligent Restaurant Automation - Sushi Train, Sushi Conveyor Belt, Magnetic Display Conveyor , Tablet Ordering System , Sushi Machines , Sushi Plates
Based in Taiwan since 2004, Hong Chiang Technology Co., LTD is a restaurant automatic system manufacturer that is specialized in providing conveyor belts for sushi bars and dine in restaurants, as well as straight line and turnable high-speed sushi trains. For sushi conveyor belts, there are magnetic, chain, optional and sushi plate. They also have food delivery robots and ordering systems.
Sold in over 40 countries, Hong Chiang has been focusing on various automated system development to help different restaurants and other industries reduce labor costs and increase competitive capacity. The unique ability to design and innovate new equipment for Automated Food Delivery System, especially "Bullet Train Delivery System (Sushi Train)" and "Sushi Conveyor Belt".
Hong Chiang Technology has been offering customers restaurant automated system since 2004, both with advanced technology and 18 years of experience, Hong Chiang Technology ensures each customer's demands are met.