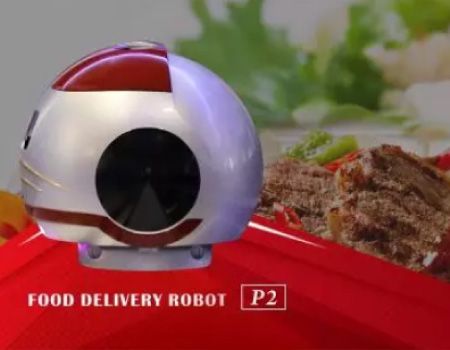 Food Delivery Robot - P series
Robot penghantaran terkecil di dunia. Kecekapan tinggi, berbilang kereta pada masa yang sama. Pusingan U dan sudut khas semuanya fleksibel.
Sistem penghantaran makanan "P Series" mengandungi ciri siri C dan lebih-lebih lagi, ia boleh melakukan lebih banyak lagi! Berbilang titik berlepas (stesen kerja), pengiraan laluan penghantaran AI, pusingan U, pengenalan jalan bercabang...dsb. yang meningkatkan fungsi ke peringkat seterusnya.
Siri P pasti boleh menjadi robot penghantaran terpantas dan paling fleksibel, kerana laluan pulangan pengiraan AInya boleh mengira dan mengatur secara automatik melalui navigasi pintar AI. Beberapa stesen kerja dengan fungsi berbilang tugas digunakan. Ia boleh membantu meningkatkan kecekapan kerja, memendekkan keseluruhan masa makan dan meningkatkan perolehan dengan berkesan!
 
Peringatan bunyi & cahaya serta penutup pelindung automatik sebagai penghantaran kalis wabak untuk mencipta ciri anda sendiri dan tempat makan yang selamat dan persekitaran kerja. Selain itu, anda juga boleh menyambungkan robot penghantaran dengan sistem pesanan untuk menjadikan pesanan dan proses penghantaran anda lebih berteknologi, mudah dan lebih lancar! Jika anda lebih suka robot penghantaran makanan gaya khas, anda boleh berbincang dengan pereka kami. Kami juga boleh membantu anda melaraskan warna dan tanda dagangan pada robot agar sepadan dengan gaya restoran anda!
---
Kelebihan
Penghantaran makanan tanpa pemandu, kurangkan peluang hubungan penghantaran manusia ke tahap minimum
Pengiraan laluan penghantaran AI, jalan pintas, pusingan U, jalan ford, sudut khas semuanya boleh dilakukan
Berbilang stesen kerja membolehkan kerja maksimum dan kecekapan penghantaran makanan
Kedudukan dan penghantaran yang cepat dan tepat, tingkatkan kadar pusing ganti
Kelajuan yang stabil menghalang tumpahan atau kebocoran.
Kurangkan kos kakitangan sebanyak kira-kira 50%
Elakkan dan kurangkan risiko perlanggaran, percikan, melecur dan melecur
Reka bentuk tersuai boleh mencipta imej jenama tambahan
Tingkatkan topikal dan bawa lebih ramai pelanggan melalui pemasaran dari mulut ke mulut

BERBILANG ROBOT MENGHANTAR SECARA SERENTAK
Menyokong pelbagai laluan penghantaran
Sesuai untuk semua jenis restoran
Grafik Struktur Sistem Robot Penghantaran Makanan
Spesifikasi
Muat turun
Muat turun

Download
Food Delivery Robot - P series | Bullet Train Delivery System (Sushi Train)" and "Sushi Conveyor Belt Manufacturer - Hong Chiang Technology
Based in Taiwan since 2004, Hong Chiang Technology Co., LTD is a Food Delivery Robot - P series | restaurant automatic system manufacturer that is specialized in providing conveyor belts for sushi bars and dine in restaurants, as well as straight line and turnable high-speed sushi trains. For sushi conveyor belts, there are magnetic, chain, optional and sushi plate. They also have food delivery robots and ordering systems.
Sold in over 40 countries, Hong Chiang has been focusing on various automated system development to help different restaurants and other industries reduce labor costs and increase competitive capacity. The unique ability to design and innovate new equipment for Automated Food Delivery System, especially "Bullet Train Delivery System (Sushi Train)" and "Sushi Conveyor Belt".
Hong Chiang Technology has been offering customers restaurant automated system since 2004, both with advanced technology and 18 years of experience, Hong Chiang Technology ensures each customer's demands are met.