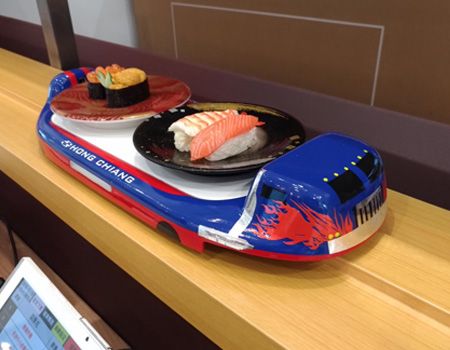 Yüksek Hızlı Sushi Tren & Yemek Dağıtım Sistemi (Döner Tip)
Restoran Oturma Düzenlemelerinizi En İyi Şekilde Optimize Edin
Döner tip Sushi Train ayrıca, mutfaktan yemek masasına otomatik yiyecek dağıtım sürecini uygulamak için en son kızılötesi ve kablosuz pil şarj teknolojisini kullanır. Yemek dağıtım trenindeki kızılötesi teknoloji ayarı, tabakların çıkarıldığını ve herhangi bir tuşa basılmadan mutfağa otomatik olarak döndüğünü algılar. Otomatik yemek dağıtım treni, yemek servisi yaptıktan ve mutfağa geri döndükten sonra kablo gerektirmeden otomatik olarak şarj olur.
 
Düz tipten farkı, döner tipin oturma düzeninde birkaç dönüşe izin vermesidir, yine de yiyecekleri göbeğe teslim edebilirsiniz. Bir restorana kurulmak daha esnektir.
2 çeşit döner araba seçilebilir, "Manyetik Araba S & M", "Manyetik Araba S" suşi ve narin yemek gibi küçük tabaklar sunar ve "Manyetik Araba M" için daha ağır ve daha büyük tabak verebilir biftek ve karma yemek gibi yemekler.
"Manyetik Araba S/M", aynı anda daha fazla yemek dağıtmak için arabayı 2 arabaya genişletebilir.
---
Avantaj
Karma yemekler ve büyük yemekler restoranı için uygundur, örneğin Ramen dükkanı, güveç restoranı, fast food restoranı vb.
Ana ve yan yemekler aynı anda servis edilebilir.
Köşeleri fethedebilir ve istikrarlı teslimatı sürdürebilir.
Bar tipi ve çok köşeli restoranlar için uygundur.
Yemekler sofraya her zaman taze gelir.
Mağaza içi personel maliyetlerini ve teslimat risklerini azaltın.
Döner Ekspres Tren
Araba modelinizi seçin, restoranın ihtiyaçlarını karşılayan teslimat hizmeti
Opsiyonel fonksiyon
● LED Farlar    ●  Sesli Hatırlatıcı   
Galeri
Döner Ekspres Tren_Maglev
İndirmek
İndirmek

İndirmek
High Speed Sushi Train & Food Delivery System (Turnable Type) | Bullet Train Delivery System (Sushi Train)" and "Sushi Conveyor Belt Manufacturer - Hong Chiang Technology
Based in Taiwan since 2004, Hong Chiang Technology Co., LTD is a High Speed Sushi Train & Food Delivery System (Turnable Type) | restaurant automatic system manufacturer that is specialized in providing conveyor belts for sushi bars and dine in restaurants, as well as straight line and turnable high-speed sushi trains. For sushi conveyor belts, there are magnetic, chain, optional and sushi plate. They also have food delivery robots and ordering systems.
Sold in over 40 countries, Hong Chiang has been focusing on various automated system development to help different restaurants and other industries reduce labor costs and increase competitive capacity. The unique ability to design and innovate new equipment for Automated Food Delivery System, especially "Bullet Train Delivery System (Sushi Train)" and "Sushi Conveyor Belt".
Hong Chiang Technology has been offering customers restaurant automated system since 2004, both with advanced technology and 18 years of experience, Hong Chiang Technology ensures each customer's demands are met.