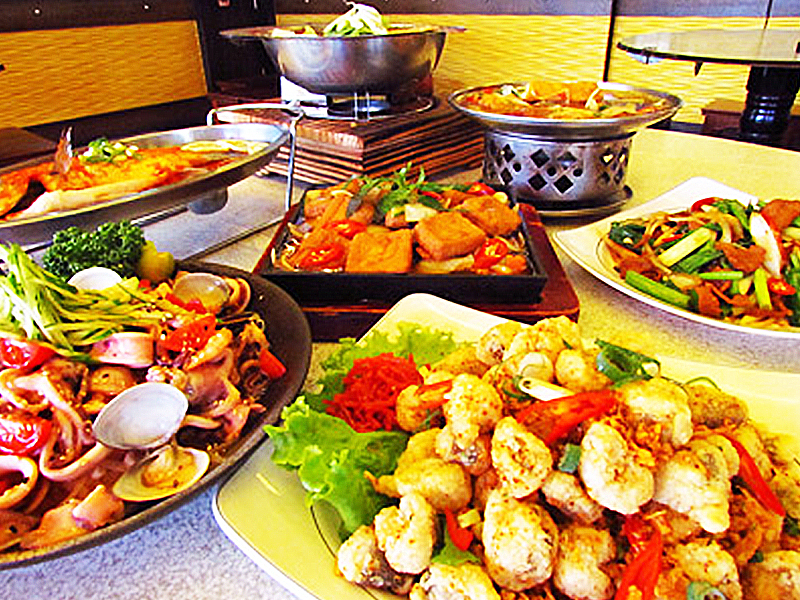 Seafood Stir-Fry Shop Solution Project
Stir-fry shops are the one of the most common local dishes in Taiwan. In every city, you could see them everywhere, they are also the most popular places for people to gather in the evening.
In a traditional stir-fry shop, you would see many service people there. Sometimes, one little shop would be probably included over 10 service people, which could be a huge labor cost. Besides, the dishes in the shop are freshly prepared as ordered, so when the shop is crowed, the distance of every table are getting small. So, at this moment, if the service people serve the dishes improperly, there would be a disaster.
When a stir-fry shop is adopted the automatic express delivery system and table-ordering systems, the labor costs are highly lowered, and the accidents of food delivery also can be avoided. Therefore, not only customer satisfaction will greatly be improved, but also will the revenues.
---
Restaurant layout
Project: Suitcase Shopping display

Equipment measurement: 14 meters

Seating capacity: 80 people (ten-seater table: 8 people)
Function
Tablet-ordering systems: Tablet-ordering systems enable customers to order for themselves directly from their tables and allow them to freely order the food they want. You can also design the pages on the tablet and make all the menus showed on it. Every table is equipped with a tablet-ordering system, and cooks in the kitchen can make the meals soon once receiving customers' order directly via tablets. When customers finish the meals, they can push the "check out" button and just walk to cashier's counter for paying bills.

Automatic express delivery system: Customers can order through the tablet-ordering systems without any help from service people. When meals are made, staff in the kitchen can use the automatic express delivery car to deliver the meals to the customers directly. After customers receive their meals, express machines will go back to the kitchen automatically. The express machine could be carried with over 6 kilograms, so soup can also be delivered.
Before VS After Comparison
Before adoption: Traditional stir-fry shops are always crowed, so service people should be very careful to deliver meals to avoid dropping them. Besides, as the stir-fry shops usually house lots of tables, there should be many service people to support each other

.
After Adoption: If automatic express delivery system and tablet-ordering systems are adopted in stir-fry shops, the labor costs will be greatly reduced, delivery speed will become fast, and the accidents of wrong delivery will also be avoided. Therefore, the quality of service will be improved, making the meals and delivery staying a much more better condition, and increasing your revenues for sure.