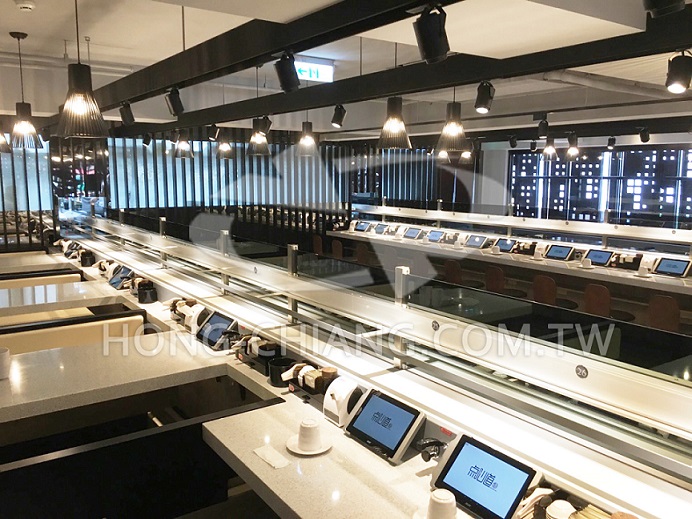 Dim Sum restaurant Solution Project
Since Dim Sum restaurant adopted automatic delivery food system, it has saved the food trolley movement space and reduced labor and cost. Besides, by using this system, it can accommodate more seating capacity to increase profit.
---
Restaurant layout
Project: Dim Sum restaurant
Equipment measurement: 8.4m * 2 set
Seating capacity: 60 people(Single table: 28 people,Four seater table: 32 people)
Function
Ordering System:

Customers only need to touch the tablet to order the meal step by step. This information will be delivered to kitchen side directly. The process of ordering food is easy and quick. When food is ready, the tablet will pop up the message to notice the customer. Owner can receive the customer preference from system to adjust the menu. Besides, the menu content can be changed easily to attract customer's attention

.
Before VS After Comparison
Before the implementing of automatic delivery food system
Traditional processes in Dim Sum restaurant, staff serve the meal to each table to let customer choose the food. It causes many problems such as price sign unclear, the lack of meal content, waiting for food trolley or occurring human error. These factors will reduce customer satisfaction and decrease return rate.
After the implementing of automatic delivery food system
HONG CHIANG Technology focuses on developing automatic restaurant equipment for dim sum restaurant including ordering system and automatic delivery food system. By using this system, it can reduce the staff back and forth to the kitchen side, decrease human error, increase the turn over and satisfaction. Owner will receive the customer preference to adjust the menu and price strategy. Customers are satisfied with having the meal in the automatic restaurant. Increasing customer retention can lead to an increase in profits.