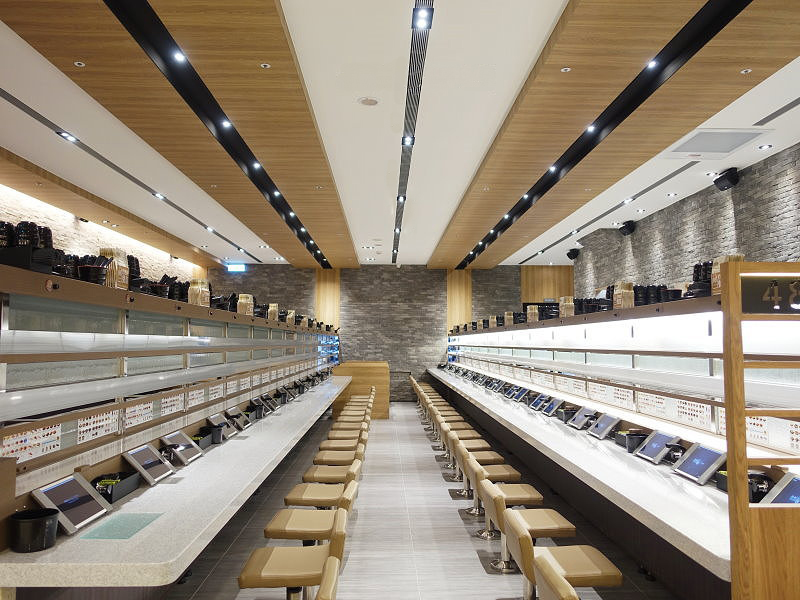 kaiten sushi Solution Project
After introducing express delivery system, the conveyor belt will no longer be required. There won't be any concern of stale sushi waste, allowing restaurant operator to save a lot of cost, and avoiding customers eating stale sushi.
---
Restaurant layout
Project: kaiten sushi
Equipment measurement: 8.4m * 2 set
Seating capacity: 60 people(Single table: 28 people,Four seater table: 32 people)
Function
Ordering System

: 

Customers only need to touch the tablet to order the meal step by step. This information will deliver to kitchen side directly. The ordering food process is easy and quick. When food is ready, the tablet will pop up the message to notice the customer. Owner can understand customers' preference from system data to adjust the menu. Besides, the menu content can also be changed easily to attract customer's attention.
Automatic delivery food system: Deliver the freshest sushi to customers even in rush time. Customers can always get sushi in best condition.
Hot Water System: Continuously supply hot water with digital thermostat control. Free up restaurant staff from serving tea to focus more on the quality of service.
Sushi Conveyor VS Sushi Express Delivery System
Before the implementing of automatic delivery food system
The weakness of traditional kaiten sushi restaurant:
Put sushi or sashimi on conveyor belt and let customer choose by themselves.
Cleaning/ billing are handled by restaurant staff.
Sushi and sashimi are difficult to preserve on conveyor belt. Customer may get stale meal which cause terrible feedback from customers.
A lot of waste of sushi material every day.
Human-made mistake sometimes cause extra cost for restaurant operators.
After the implementing of automatic delivery food system
The strength of Hong-Chiang's self-developed automation equipment such as self-order system and Sushi express delivery system:
Reduce the waste of food material.
Customer will always get the fresh meal which enhance the customer experience.
Sushi express delivery system can include up to 3 floors of express lanes, which can be vehicle type or belt type. Marvelous style of vehicles such as Mini cars/ train/ racing car will attract customers to come.
Self-order tablet system can speed up the ordering and billing process without. Easy and precise!
Through the order statistic record in the system, restaurant operators can analyze customers habits/ preference and modify the menu/ plan promotion accordingly to create more and more profit.