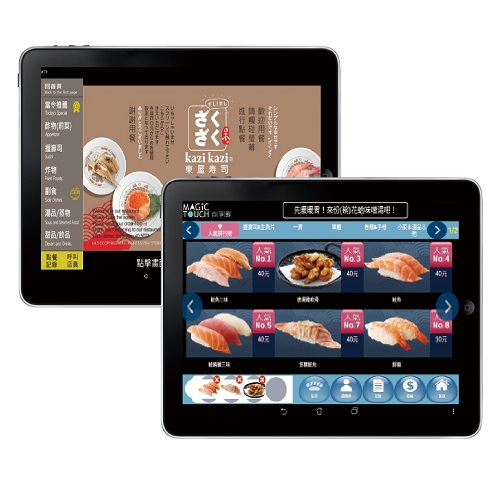 Sistema de pedidos de tablets
The Core of the Automatic Restaurant.
The primary core of the unmanned restaurant is the intelligent operation of ordering food. The craftsmanship tablet ordering system helps you achieve real technology, makes ordering process is no longer cumbersome !
Customized menu and ordering interface, support iOS and Android system.
Restaurant staffs check available seats when guests arrive and provide 2D barcode receipt. Guests order directly from the tablet on their table, which they may also use it to call for service. Kitchen receives the orders instantly, prevent miss-ordering by human operation, ordering history is recorded. Ordering System provides data report through its MIS system that helps restaurants process further analyze.
---
Vantagem
Ordering food has never been quicker on their tablets
Digital waiter / waitress
Organized menu looking better and easy order
Make change anytime for holidays promotion
Generate and analyze data more clearly
Over 3000 restaurants user experiences
Unique image menu design
You can design your own menu style to show your brand concept and style.
You can update store activities from time to time, and manage the store operation easily !
Standard 3 languages interface
Preset Chinese, English and Japanese language menus, you can also add any language in any country! Foreign tourists can order food easily, In the future, it makes your oversea expansion easier!
Suitable for all types of restaurants
The system supports up to 14 major categories multiply 9 small categories = 126 pages menu to meet your various restaurant menu demand!
Easy for marketing
In addition to ordering, you can rotate advertising content, such as: corporate philosophy,
business stories, good deals, promotions, full interactive games,etc.
Still getting frustration from ordering or meal preparation management?
Try out our Tech-Ordering System!
Feel freeto choose either
IOS or Android Systemfor your restaurant!
You could choose either iOS or Android System to upgrade your restaurant!
If you are an IOS fan lover,you will love this simple IOS tablet system!

The system supports Android too,accommodate your user habit!
Order Procedure Analyze
With the Tablet ordering System, the burden of order-taking work can be greatly reduced, so that the server can strengthen the service of the store and improve customer satisfaction!
How does the tablet Ordering System work?
Seat Leading, Ordering, Delivering,
all in one.
How to design the interface
for the tablet ordering system?
Based on the pre-design picture specs, you can throw in any desire pictures, graphs, or contents to represent your restaurant!
Rich pictures increase the appetite.
Categorized interface will reduce the chance of making wrong orders.
What are the advantages
of using tablet ordering system
in your restaurant?
Tablet ordering system
quotation process.
Tablet Ordering System Architecture
Diversified Functions
Using built in MIS system
to provide complete data report.
The data report can show you the sales volume and guest counts in days, weeks, or months, and it can do data comparing with previous data to locate the favorite dishes. By reducing the overall dining process can improve the sales competitiveness, and create amazing revenue.
Tablet Ordering System can be used in Sushi ,Hotpot ,Ramen, BBQ, any type of restaurants, or Karaoke shops.
Who is using Hong Chiang's Tablet Ordering System?
Over 3000 restaurants User Experiences !
Sushi Express , Magic Touch Sushi, Tainan Bullet Train Raman, Yummy Sushi, Tian-Tong Shabu Shabu, Appare Sushi , Volcanic Rock , Yenchiang Hot Pot, Teishoku Japanese Cusine, Gatten Sushi,Yiji sushi,Moji sushi,Dong-GuanYakiniku…etc.
Gallery
Table Ordering System
Table Ordering System
Download
Download

Download
Sistema de Pedidos de Tablets | Sistema de Entrega de Trem Bala (Trem Sushi)" e "Fabricante de Correia Transportadora de Sushi - Hong Chiang Technology
Com sede em Taiwan desde 2004,Hong Chiang Technology Co., LTDé um sistema de pedidos de tablets | fabricante de sistema automático de restaurante especializado no fornecimento de correias transportadoras para sushi bars e jantares em restaurantes, bem como trens de sushi de alta velocidade em linha reta e giratória. Para esteiras transportadoras de sushi, existem placas magnéticas, de corrente, opcionais e de sushi. Eles também têm robôs de entrega de alimentos e sistemas de pedidos.
Vendido em mais de 40 países, Hong Chiang tem se concentrado no desenvolvimento de vários sistemas automatizados para ajudar diferentes restaurantes e outras indústrias a reduzir os custos trabalhistas e aumentar a capacidade competitiva. A capacidade única de projetar e inovar novos equipamentos para o Sistema Automatizado de Entrega de Alimentos, especialmente "Sistema de Entrega de Trem Bala (Trem Sushi)" e "Correia Transportadora de Sushi".
A Hong Chiang Technology oferece aos clientes sistema automatizado de restaurante desde 2004, com tecnologia avançada e 18 anos de experiência, a Hong Chiang Technology garante que as demandas de cada cliente sejam atendidas.