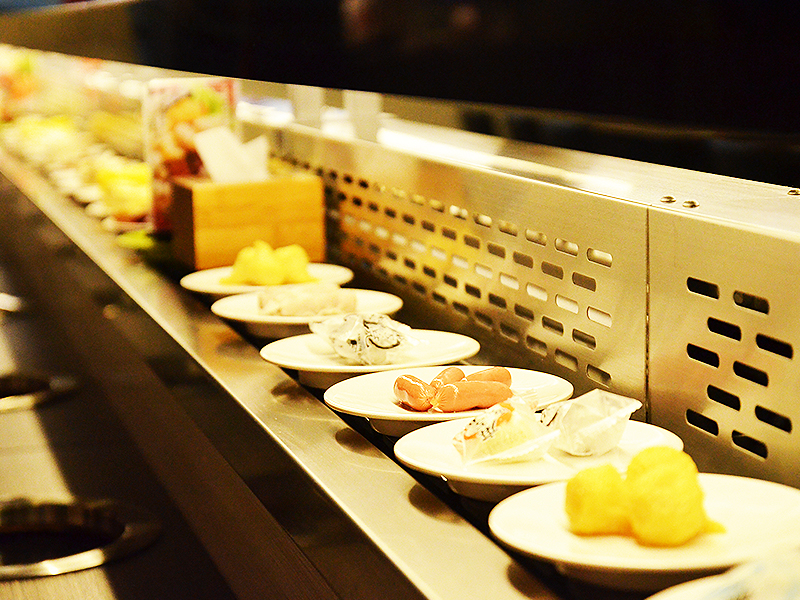 Refrigerated Rotary Hot Pot Restaurant Solution Project
Asians enjoy eating hot pot is well known around the world and hot pot restaurants are also dazzling in the streets. No matter which kinds of hot pots, shabu-shabu, spicy pot or combo pot, they all have their own markets.
The traditional hot pot transformed into the rotary hot pot with ordering and delivery systems. Customer do not have to leave their seat to take food anymore. They can get the freshest food in front of their tables and the meal time can be shortened. Restaurants can serve more guests!
The kitchen staffs do not have to walk around outside to fill food. They work in the kitchen to get everything done. It can improve the kitchen staffs' efficiency!
---
Store layout
Project: Refrigerated Rotary Hot Pot Restaurant

Equipment measurement: 13 meters

Seating capacity:

79 people(Single table: 61 people, Four seater table: 12people, Six seater table: 6 people)
Function
Chain Conveyor Hot & Cold System

: 

Hot and cold crescent chain rotary table can be assembled with only insulation, refrigeration function or both.

This case only uses a single layer with cold storage function, which can keep the food ingredients fresh and reduce the rate of bacterial breeding, on the rotary pot turntable. Besides, rotation function allows customers to continue choosing their favorite ingredients, and the food will not be wasted easily so that the cost of ingredients can be controlled effectively. Importantly, consumers can eat the fresh food!

Not only controlling the cost of food effectively but also avoiding wasting food, rotary hot pots become the most popular type of hot pot restaurants in recent years.
The refrigerated rotary hot pot can keep the freshness of the ingredients on the turntable, and the continuous air-conditioning can keep the ingredients cold to avoid losing freshness in the long-term rotation and reduce the elimination rate of food ingredients.
We could see the ice phenomenon in the middle, and the fans inside will bring cool air to keep food in a frozen state and avoid the food stale.
Before VS After Comparison
Before Adoption: Food ingredients are placed at a fixing area together in the most of traditional hot pot restaurants. Due to this, customers must leave their seats to get the food, making customers' dining time longer, and freshness preservation is also a doubt. Moreover, staffs need to keep walking around to fulfill ingredients, decreasing staffs' actual man-hour, and accidents happen easily. 
Some hot pot restaurants will use ice or spray water to keep food and vegetables fresh; however, ice will melt into water after a period time and make food soaked. Besides, ice is also one of the cost.
After Adoption: Customers don't have to leave their seats for food. They can pick any food they like at their seats directly and shorten the dining time. On the other side, staffs' work efficiency will increase since they can fulfill ingredients in the kitchen instead of walking around.
The ice phenomenon of refrigerated chain conveyor can keep food in a frozen state and avoid the food stale.
Restaurant can also control the amount of food to avoid wasting and let customers have chances to enjoy more food. The cost of ingredients can be controlled effectively at the same time.
Asiakkaan tapaus
Refrigerated Rotary Hot Pot Restaurant