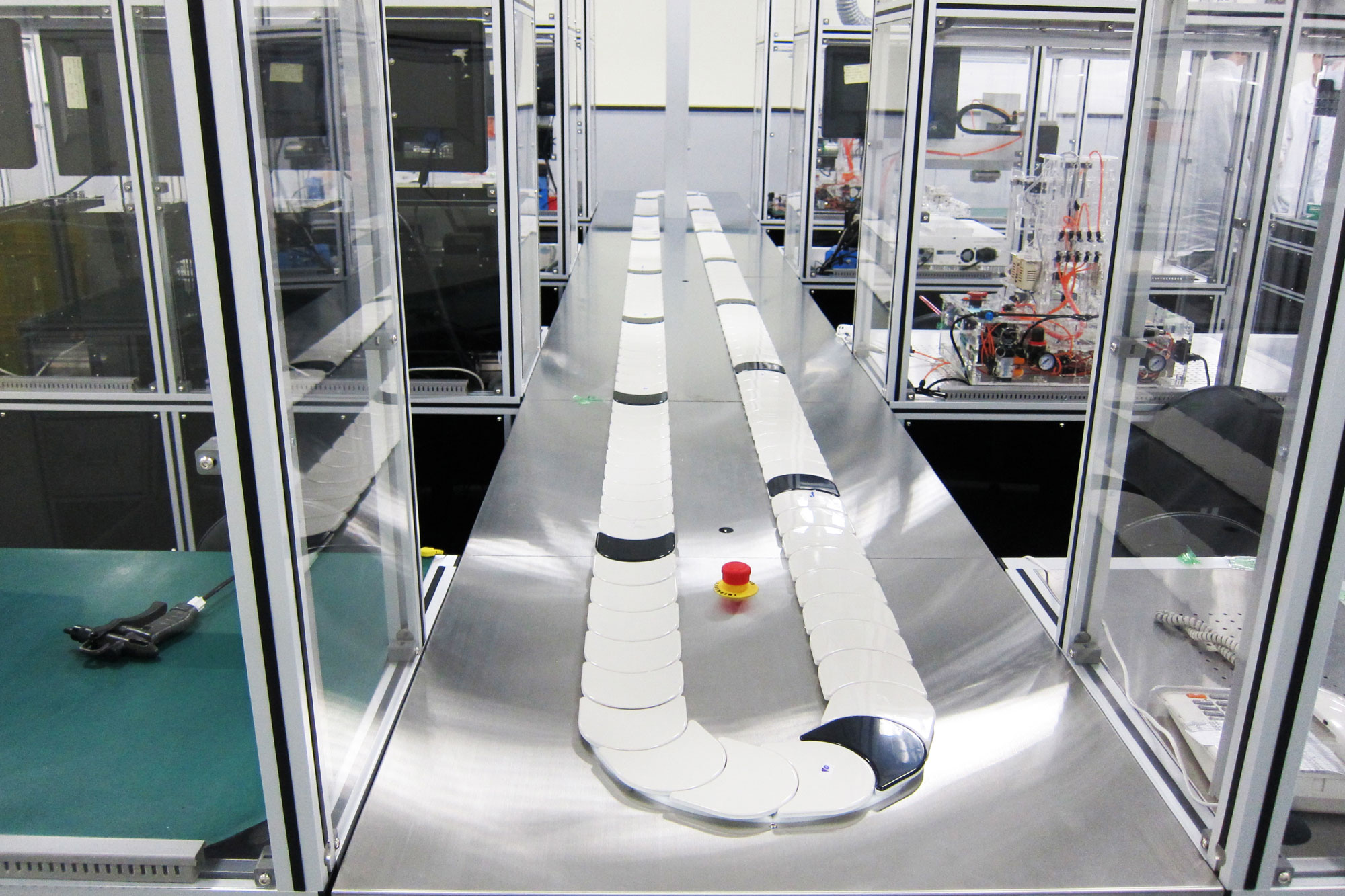 Industrial Automation Solution Project
Nowadays, more and more factories and manufactures are transformed to automation. Obviously, it is a new way to enhance efficiency, and reducing error probability. Besides, the new government policy (new policy claims to increase overtime pay and days off) also leads to the rising of labor costs.
 
Our "Magnetic Induction Style" can be customized and fitted into any industry any production equipment. Besides, it can also reduce the carrying speed and delivery and makes efficiency boosting.
 
Our conveyors can be used for quality checking, parts delivery, transferring between every work station and so on. They are convenient for operation and can increase the efficiency.
 
Application scope: manufacturing, technology, automatic product lines, quality control...etc.
---
Application case
Electronic Technology Company
An electronic technology company produces a variety of parts, so they need a convenient conveyor to link with every work station. In this way, it can increase efficiency and reduce manual handling.
Every conveyor can be customized according to your demand, including size and length. From individual work station to whole factory, they all could be customized.
It is the best choice for electronic technology companies to become automatic ones.

After adopted automatic equipment, every work station can be equipped with an automatic robotic arm to match up with the conveyor. By this way, it would increase the production capacity, the speed of completion, and revenues. Also, it will be the future target for modern factories.
According to three-dimensional modelling, you can check exactly our conveyor design. Thus, you could decide the working spots you prefer to set, so that we could arrange and produce your unique conveyor without any mistake.
This electronic technology company adopts CHAIN CONVEYOR, MAGNETIC INDUCTION CONVEYOR, and DISC CONVEYOR. You can choose any type of conveyors according to your demand.
Bicycle Parts Manufacturers

Bicycle Manufacturing are one of the most thriving industry in Taiwan. Many high-quality parts are all from Taiwan, including cars, wheels, derailleurs and chains.
Either parts manufacturing or bicycle assembly, they all need smooth operation to deal with their bulk orders.
Therefore, implementing automatic producing process would be very important. It could enhance efficiency and reduce labor costs, which is helpful for assembling and producing.

This bicycle parts manufacture implement DISC CONVEYOR, and use customized square plates based on its demand. Operation speed can also be adjusted, making your producing process smooth and quick.
Likewise, you can also choose other conveyors: CHAIN CONVEYOR or MAGNETIC INDUCTION CONVEYOR
Traditional Bearing Manufacturer
Traditional industries are facing many challenges. Many of them are threatened by the new government policy. Therefore, increasing efficiency is the best way to avoid work overtime.
Through individual conveyor design, every work station could work more efficiently and smoothly to deal with working affairs. Compare to traditional operation process, our automatic conveyors can operate more smoothly, and increase efficiency. In this way, worktime is highly reduced. For a business, this is the best way to lower costs undoubtedly.

This bearing manufacturer used their customized CHAIN CONVEYOR, shortening the distance of delivering parts, and improving the convenience and operating speed. At the same time, you could also choose Magnetic Induction Conveyor or Disc Conveyor according to your need.