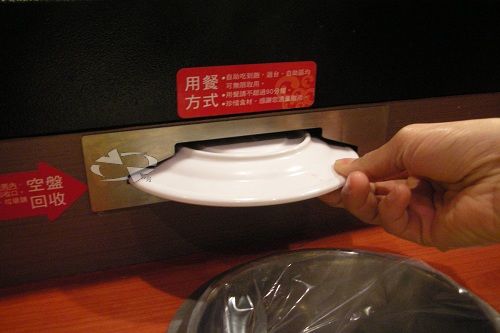 Sushi Plate Slot System Solution Project
When the guests finished the meal, is it quite unsightly to face the stacked plates on the table top of the restaurant?
The secret of the system not only makes the dining table more tidy but also reduces the time for the service staff to recycle the disc. More importantly, the shy customer can keep the secret of the food how many they eat!
---
店面介紹
Project: kaiten sushi

Seating capacity: 60 people(Single table: 28 people,Four seater table: 32 people)
Function
Sushi Plate Slot System:"Sushi Plate Slot System" helps the restaurant to maintain the table tidy. Reduce the table services and the cost of labor costs! Guests can put their dishes they used into the "Sushi Plate Slot System" in the front of each seat , it make the desktop keep clean !
The dishes that have been eaten by the guests are collect under the track in the waterways . When they are thrown the dishes into the waterway, dirty dishes will follow in the waterway to the kitchen port. The infield service personnel only need to arrange the collected dishes in the Plate Washing Machine. In addition to saving labor costs,customers can also interact with the restaurant during the meal.
Before VS After Comparison
Before Adoption:The customer's dining table is untidy, and the service personnel need to recycle the dishes, resulting in an increase in service labor costs. May increase customer complaints.
After Adoption:The finished dishes can directly enter the equipment waterway. In addition to making the restaurant more tidy and the tabletop can be kept clean at any time, the customer's good sense of the restaurant can be greatly increase, and the service manpower cost can be greatly reduced. The service personnel do not need to recycle the dishes and put the dishes in the kitchen port directly into the Plate Washing Machine to sort and clean. The whole process will be more simple.
Place
Restaurant: Sushi Store, hot pot restaurant, barbecue restaurant...etc.