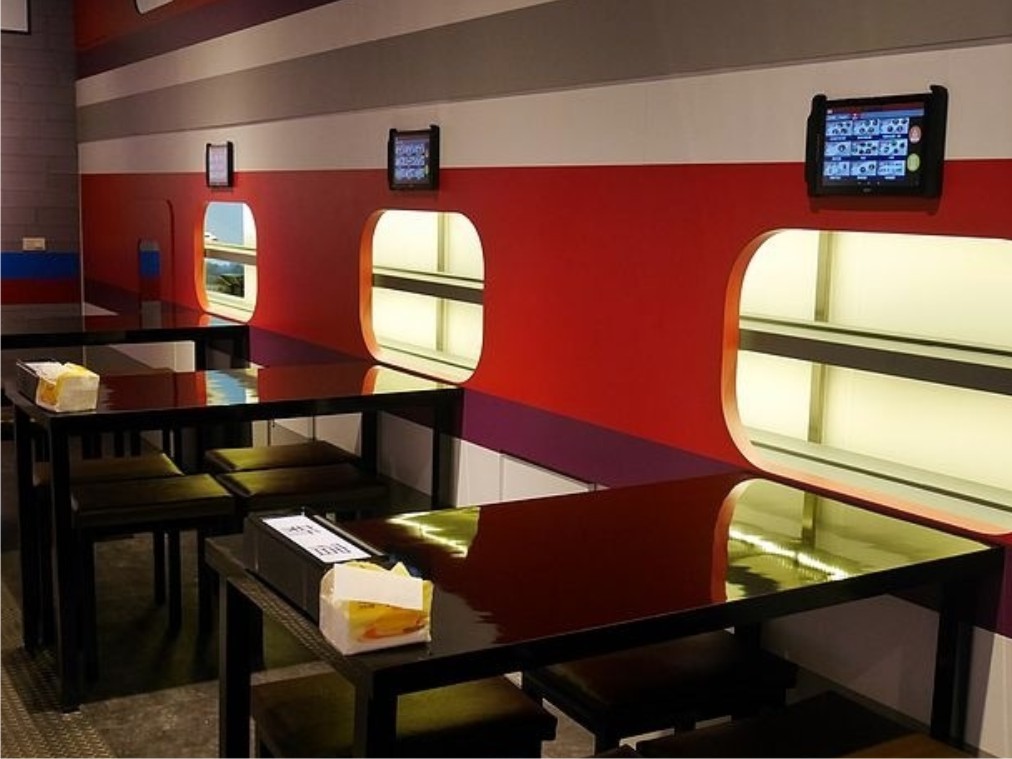 Ramen noodle restaurant Solution Project
After Ramen noodle restaurant adopted automatic delivery food system, it doesn't need staff to help the customer to order the meal and deliver the meal for them. It decreases the personal cost obviously.
---
Restaurant layout
Project: Ramen noodle restaurant
Equipment measurement: 11 x 4 m
Seating capacity: 32 people
Function
Ordering System: Customers only need to touch the tablet to order the meal step by step. This information will deliver to kitchen side directly. The ordering food process is easy and quick. When food is ready, the tablet will pop up the message to notice the customer. Owner can understand customers' preference from system data to adjust the menu. Besides, the menu content can also be changed easily to attract customer's attention.
Automatic delivery food system: After chefs prepare the meal, they only need to put the meal on the food delivery car and press customers' table number. The food will be delivered to the appointed table number directly.
Before VS After Comparison
Before the implementing of automatic delivery food system
Traditional processes of Ramen noodle restaurants, it needs staff to order and deliver ramen. During the peak time, the staff cannot focus on providing excellent quality service. It will also elevate the risk to make noodles or soup spill from the bowls. Most owners will hire more waiters to reduce these human errors; however, this not only increases the human cost but also causes the profit falling.
After the implementing of automatic delivery food system
HONG CHIANG Technology improves traditional Ramen noodle to become automatic restaurant including ordering system, automatic delivery food system etc. The advantages are shown as below.
Decrease service staff cost and reduce human error possibility.
Increase turnover rate and customer satisfaction.
Owner will receive the customer preference to adjust the menu and price strategy.
Customers are satisfied with having the meal in the automatic restaurant. Increasing customer retention can lead to an increase in profits.
Customer Case
Ramen Restaurant Uses Automatic Express Delivery System.