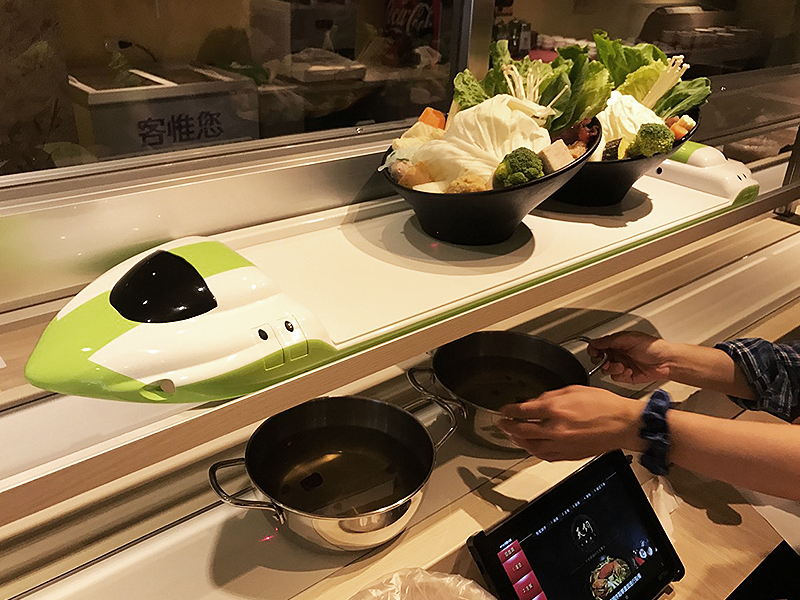 Hot Pot/Shabu-Shabu restaurant Solution Project
When a hot pot restaurant implements automated food delivery system, side dishes, vegetables, seafood, drinks, bowl of soups and dessert will be precisely delivered to the diner's table. Compare to traditional hot pot restauramt, automated system avoid accidents caused by food runner busy deliver meals back and forth the kitchen! The system also help keep the dishes fresh as they are only delivered after diner's place an order. Besides, it solves the problem that "All You Can Eat" restaurants have, automated food delivery system help reduce the waste of dishes and lower the cost of food effectively!
---
Restaurant layout
Project: Hot Pot/Shabu-Shabu restaurant
Equipment measurement: 19m * 1 set
Seating capacity: 57 people(Single table: 13 people,Four seater table: 32 people,Six seater table: 12 people)
Function
Tablet-Ordering System

:

All the dishes can be categorized and shown on the tablet, patrons only need to click the images to order anything they like. Restaurants can also customize their combo meal for the special holidays or promotional compaigns!
Express Delivery System: After ordering via tablets, kitchen will receive the order simultaneously and start prepare the meal. Meal will be delivered to diner through express delivery train and return to kitchen automatically after diner pick off the dishes. This system can help minimize personnel cost and avoid delivering to the wrong table! The express delivery system can also deliver heavy bowl of soup or bigger plate, and it won't affect the speed and steady of delivery!
Before and After
Before the implementation of automated food delivery system
In the traditional hot pot restaurants, it is common to see diners and waiters/waitresses busy crossing through the restaurant, easily causing accident. Usually big amount of food waste happened in "All You Can Eat" style restaurants as patrons can take all the dishes without limitation. Moreover, the idle time to take diner's orders can be a very big chunk of the personnel cost!
After the implementation of automated food delivery system
Implementing the express delivery system and self-ordering tablet will minimize the frequency of delivering error or food dropping accidents and avoid waiters/waitresses rushing in the restaurants. This system will declline the needs of servers in FOH. Besides, in charge of the food inventory through the system will help reduce the waste and the cost of food. Most importantly, by using the tablet ordering system, diners can order anthiing they like anytime without feeling stress from the waiters/waitresses waiting nearby. This ordering system will help you save the money spending on traditional paper menu and can make changes on the menu from time to time according to different upcoming holidays or promotions!