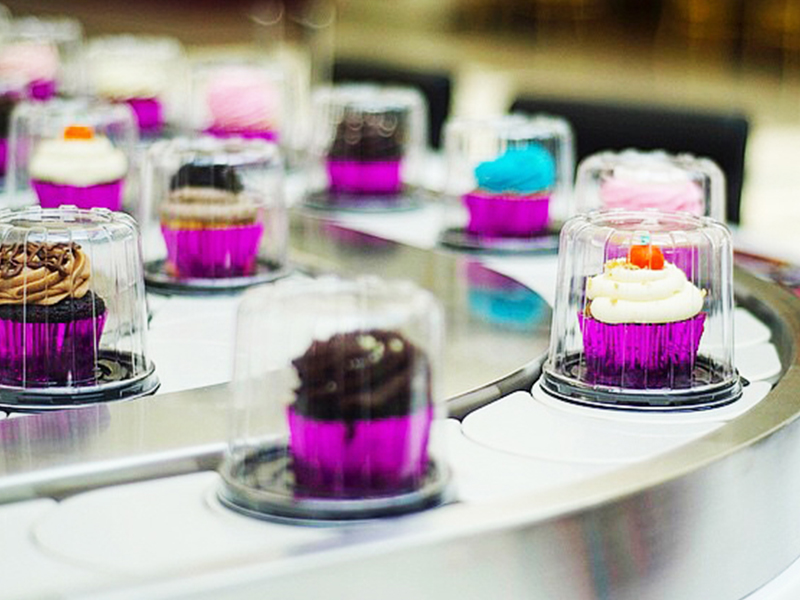 Cupcake Shop Solution Project
Lovely and colorful cupcakes always make people delighted. Their different favors, multiple colors and styles have been catching customers' eyes.
In the past, conveyors are usually used for sushi bars or hot pots. However, a cupcake shop broke through this stereo type and decided to use delivery system in the shop. When it is equipped with the chain conveyor, cupcakes on the chain would spin around, just like dancing. In this way, the cupcake shop looks more dynamic, obtains more attention, and increases buying interests also.
---
Store layout
Project: Dubai Cupcake Shop

Equipment measurement: 23x17 meters
Function
Chain conveyor: Chain conveyor is used for dessert shops, makes the cupcakes spin around and gains more exposure to customers. After the shop adopted chain conveyor, cupcake displays were transformed from single side to all angles. What a brilliant way to increase sales and revenues!
Before VS After Comparison
Before Adoption: This cupcake shop is in the department stores, so it is open-space, just like other common booths. Cupcakes are just displayed in the refrigerators, and customers check out after ordering what they want in front of the refrigerators. However, in this way, customers wouldn't see full view of cupcakes, and the design of whole shop would be less vivid and creative.
After Adoption: After shops are equipped with Chain Conveyor, cupcakes will spin around on it. You can see cupcakes in 360 degrees without missing any angle, not just a limited view. We all know that customers are always attracted by dynamitic objects rather than static ones. On one hand, buying interests will be increased because customers could easily pick up what they want on the conveyor. On the other hand, they don't have to wait next to the refrigerators for services, so sales will also be highly pushed up.
This cupcake shop in Dubai breaks tradition to display their products dynamically. It not only used Chain Conveyor to catch people's eyes but also created a buffet style of picking food instead of typical business strategies. They promote their cupcakes in an interesting and creative way, and thereby increase their sales revenues. It is such a successful case that using automatic equipment in food industry!
Customer Case
Dubai cupcake store uses single deck style chain conveyor