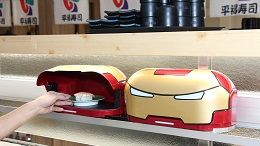 The World First Epidemic Prevention Bullet Train in 2020
From the end of 2019, COVID-19 appeared. Most of us thought it was just like flu, which would disappear after winter; however, it spreads all around the world rapidly, and it seems there's no end currently. The epidemic not only influences the health and safety of people around the world, but also impacts the economies of all countries severely, especially the catering industry.
---
28 Aug, 2020
In order to create a safe dining environment, unmanned food delivery system will be the main trend in current and future catering industry without a doubt. Thus, Hong Chiang is going to launch the world first "Epidemic Prevention Bullet Train" which offers iron protection below.
Light Flashing: The lights on the car flash as the arrival reminder
Sound Reminder: Choose a special sound according to your restaurant style
Auto-return: Cars will return automatically after the meals are taken by customers
Electric Opening: Cover can reduce the chance of contact between meals and people to avoid the droplet, and it will open automatically for customers picking up meals
Hong Chiang uses automatic equipment to increase your competitivity and lower labor costs. Our equipment can not only be used for food industry, but also other general ones, such as industrial automation and exhibitions. Help you catch up the main trend, creating new blue ocean.
The World First Epidemic Prevention Bullet Train in 2020
Hong Chiang Technology| Intelligent Restaurant Automation - Sushi Train, Sushi Conveyor Belt, Magnetic Display Conveyor , Tablet Ordering System , Sushi Machines , Sushi Plates
Based in Taiwan since 2004, Hong Chiang Technology Co., LTD is a restaurant automatic system manufacturer that is specialized in providing conveyor belts for sushi bars and dine in restaurants, as well as straight line and turnable high-speed sushi trains. For sushi conveyor belts, there are magnetic, chain, optional and sushi plate. They also have food delivery robots and ordering systems.
Sold in over 40 countries, Hong Chiang has been focusing on various automated system development to help different restaurants and other industries reduce labor costs and increase competitive capacity. The unique ability to design and innovate new equipment for Automated Food Delivery System, especially "Bullet Train Delivery System (Sushi Train)" and "Sushi Conveyor Belt".
Hong Chiang Technology has been offering customers restaurant automated system since 2004, both with advanced technology and 18 years of experience, Hong Chiang Technology ensures each customer's demands are met.