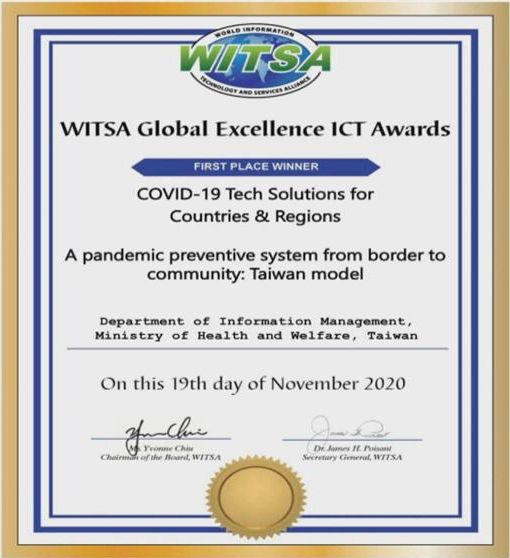 Taiwan won the first prize from WITSA – No.1 choice for epidemic prevention restaurant equipment!
Taiwan has achieved success in epidemic prevention. Moreover, our advanced deployment through digital technology won the first prize in "WITSA 2020 Outstanding Wuhan Pneumonia Solution National or Regional Group" and it's recognized by the world!
---
25 Dec, 2020
The World Information Technology and Services Alliance (WITSA) is a consortium of associations from the information and communications technology (ICT) industry around the world. The group claims that it represents over 90% of the world ICT market through its global membership and has a goal of advancing the growth and development of the ICT industry.
The whole world knows the successful epidemic prevention model and strong technical capability of Taiwan by this honor. Food delivery robot developed and produced by Hong Chiang is also the latest technology trend of global catering industry. Before the official launch, well-known chain steak restaurants, conveyor belt sushi restaurants and overseas catering groups rushed to consult and are planning and placing orders currently!
The transmission of COVID-19 is through droplets and direct or indirect contact with virus-containing secretions. Hong Chiang's food delivery robot can greatly reduce the droplet and contact infection risks during the meal delivery process, effectively create the safest dining and working environment, improve the delivery efficiency and service quality and save personnel costs!
Contact us for more information now! Hong Chiang also wishes you peace, joy and happiness through Christmas and the coming year!
Hong Chiang Technology| Intelligent Restaurant Automation - Sushi Train, Sushi Conveyor Belt, Magnetic Display Conveyor , Tablet Ordering System , Sushi Machines , Sushi Plates
Based in Taiwan since 2004, Hong Chiang Technology Co., LTD is a restaurant automatic system manufacturer that is specialized in providing conveyor belts for sushi bars and dine in restaurants, as well as straight line and turnable high-speed sushi trains. For sushi conveyor belts, there are magnetic, chain, optional and sushi plate. They also have food delivery robots and ordering systems.
Sold in over 40 countries, Hong Chiang has been focusing on various automated system development to help different restaurants and other industries reduce labor costs and increase competitive capacity. The unique ability to design and innovate new equipment for Automated Food Delivery System, especially "Bullet Train Delivery System (Sushi Train)" and "Sushi Conveyor Belt".
Hong Chiang Technology has been offering customers restaurant automated system since 2004, both with advanced technology and 18 years of experience, Hong Chiang Technology ensures each customer's demands are met.