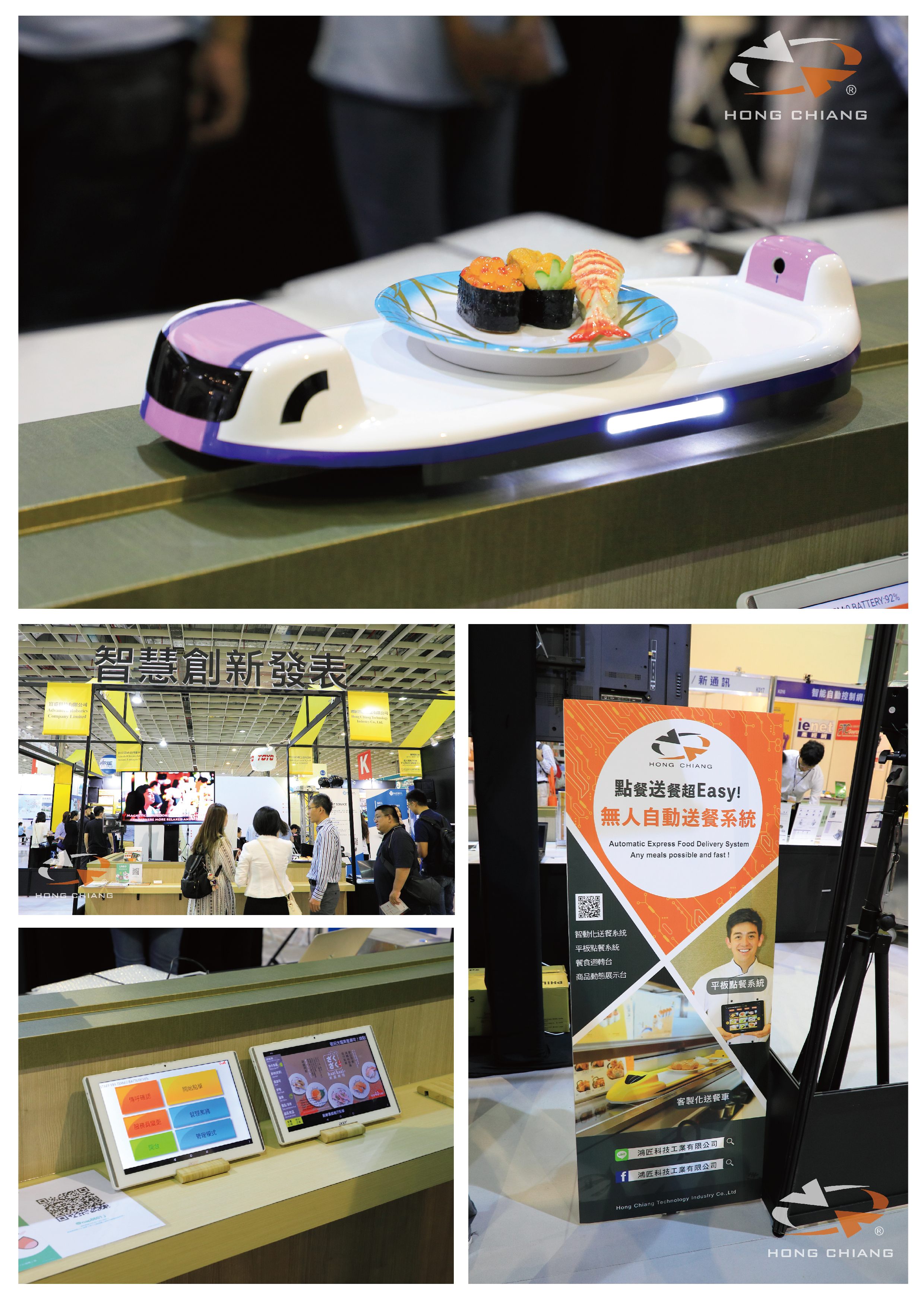 2018 Taiwan Automation Intelligence and Robot Show.
New feature — "Sound and Light Reminder" in 2018 Taiwan Automation Intelligence and Robot Show.
---
29 Aug, 2018
Hong Chiang Technology has continuously researched the innovative functions of the delivery system. In this exhibition of Taiwan Automation Intelligence and Robot Show at the Nangang Exhibition Hall, the latest "Sound and Light Reminder " system of the Intelligent Feeding System was first exposed. The distance between the machine and the person and the enhanced interaction make your delivery system not only have a single delivery function, but also enhance the functionality and fun. When the delivery car arrives at the destination, you can send out your already Pre-recorded to complete a unique dialogue. In addition to the voice reminder, the flashing light will be reminded from the side of the car to inform the guests of the fresh meal delivery!

In addition to making the restaurant more distinctive, the use of Hong Chiang Automatic Express Food Delivery System can help the industry to effectively reduce the cost of labor and the situation of the field! In recent years, most countries and regions have a trend of increasing labor costs year by year. Therefore, how to maintain the original service quality without increasing labor expenditure has become an important issue for all food and beverage operators. Reducing the number of food delivery staff and providing more efficient food delivery services, employees are also more able to focus on the infield work, so that the overall work can be significantly improved!

Hong Chiang Technology has successfully assisted many domestic and foreign restaurant operators to transform into smart restaurants. If you want to open a new restaurant or let your own restaurant keep up with this wave of technology, please contact us.
Advantages
Offering precise deliver locations, and increasing turnover rate.
The delivery is very smooth, no need to worry about plates spilled.
Decreasing the personnel cost by 50%.
Avoiding any accidents from manual delivery.
Fashion and interesting, and eye-catching.
Gaining publicity, and Buzz Marketing.
Hong Chiang Technology| Intelligent Restaurant Automation - Sushi Train, Sushi Conveyor Belt, Magnetic Display Conveyor , Tablet Ordering System , Sushi Machines , Sushi Plates
Based in Taiwan since 2004, Hong Chiang Technology Co., LTD is a restaurant automatic system manufacturer that is specialized in providing conveyor belts for sushi bars and dine in restaurants, as well as straight line and turnable high-speed sushi trains. For sushi conveyor belts, there are magnetic, chain, optional and sushi plate. They also have food delivery robots and ordering systems.
Sold in over 40 countries, Hong Chiang has been focusing on various automated system development to help different restaurants and other industries reduce labor costs and increase competitive capacity. The unique ability to design and innovate new equipment for Automated Food Delivery System, especially "Bullet Train Delivery System (Sushi Train)" and "Sushi Conveyor Belt".
Hong Chiang Technology has been offering customers restaurant automated system since 2004, both with advanced technology and 18 years of experience, Hong Chiang Technology ensures each customer's demands are met.