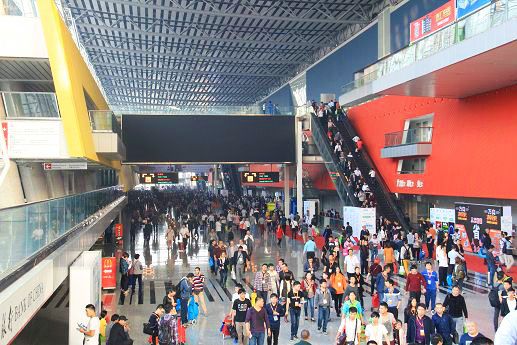 2019 26th Guangzhou Hotel Equipment and Supply Exhibition
Hong Chiang is going to the 26th Guangzhou Hotel Equipment and Supply Exhibition to showcase turnable Automated Food Delivery Car. No matter how big is the plate and how full is the bowl, customized automated vehicle deliver any meal steadily to diner's table.
---
15 Nov, 2019
Automation in restaurant is happening for a while, it's not just can be seen in sushi restaurant, it have been applied widely in other type of food restaurant. Hong Chiang Automated food delivery car can adjust driving speed, change its shell and add any light and sound notification on it. AI technology is changing the food industry, and Hong Chiang have been doing research and development of automation system for 15 years. With Hong Chiang professionalism, open an automated and unique restaurant with your own style is never been so easy!
2019 26th Guangzhou Hotel Equipment and Supply Exhibition
Date: 12- 14 Dec, 2019 Thursday - Saturday
Timings: 9:00am - 16:30pm (Dec 12-13)
9:00am - 14:00 (Dec 14)
Address: China Import and Export Fair(Canton Fair Complex), Guangzhou, China
Booth No: 476 & 479
Advantages
Suitable for any types of restaurant, e.g.,sushi restaurant, Chinese restaurant and buffet resturant,etc.
Food delivered to designated spot fast, hugely increasing table turnover.
Food delivery on conveyor belt is very smooth, no worries about plates spilled.
Decrease the personnel cost by 50%.
Avoid any accidents from manual delivery.
Fashion, interesting, and eye-catching.
Gain publicity and Buzz Marketing.
Hong Chiang Technology| Intelligent Restaurant Automation - Sushi Train, Sushi Conveyor Belt, Magnetic Display Conveyor , Tablet Ordering System , Sushi Machines , Sushi Plates
Based in Taiwan since 2004, Hong Chiang Technology Co., LTD is a restaurant automatic system manufacturer that is specialized in providing conveyor belts for sushi bars and dine in restaurants, as well as straight line and turnable high-speed sushi trains. For sushi conveyor belts, there are magnetic, chain, optional and sushi plate. They also have food delivery robots and ordering systems.
Sold in over 40 countries, Hong Chiang has been focusing on various automated system development to help different restaurants and other industries reduce labor costs and increase competitive capacity. The unique ability to design and innovate new equipment for Automated Food Delivery System, especially "Bullet Train Delivery System (Sushi Train)" and "Sushi Conveyor Belt".
Hong Chiang Technology has been offering customers restaurant automated system since 2004, both with advanced technology and 18 years of experience, Hong Chiang Technology ensures each customer's demands are met.