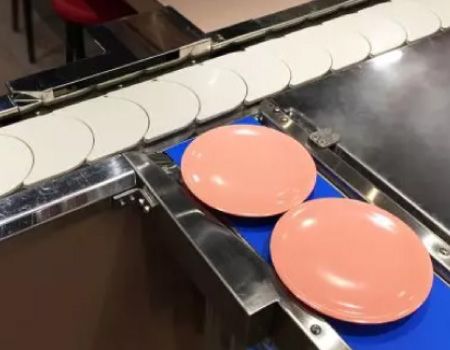 Optional Function Of Sushi Conveyor Belt
Optional accessories for optimizing your conveyor
Hong Chiang helping every customers with their new restaurants, we offer accessories for Sushi Coveyor Belt and Automated Delivery System, such as freezing plates, plate washing machine, sushi freshness system, belt transfer system, hot water system, and sushi plate slot system…etc. Using these system make your restaurant more convenient and technological.
---
Freezing Plate
Freezing Plate can keep food fresh, and avoids bacteria to grow. Make the texture good!
The snap – fitting design, tenon plates and round water box make them not easy to drop off, you can keep food fresh very easily.
Freshness System
Freshness System could control the freshness of food. It would screen out the food revolving on the conveyor for too long, and prevents customers from eating the stale food.
Belt Transfer System
This system can control the food delivery distance. It is the best equipment during non-peak hours. Help you shorten the food delivery distance and avoid costumers to wait. So that the meal time can also be shortened.
Hot Water System
The "hot water supply system", which is embedded in the turntable, uses a digital thermostatic system to control the hot water temperature constantly. For customers to have tea at the table and customers could add hot water at any time!
Sushi Plate Slot System
Guests can put their dishes into the "Sushi Plate Slot System" set in the front of each seat before guests can finish after the meal into the closing system, so that the desktop clean and dirty!
Plate Washing Machine (HDW-01)
Automatic sushi plate washing machine can help you clean those large amout of used sushi plate in the most efficient way. It is definately the best dishwashing helper in the restaurant!
Belt Basket Delivery System
Our Belt Basket Delivery System is your best assistant to save time in cleaning and delivering used-tablewares from table to kitchen!
Belt Basket Delivery System
Belt Transfer System
Download
Download

Download
Optional Function Of Sushi Conveyor Belt | Bullet Train Delivery System (Sushi Train)" and "Sushi Conveyor Belt Manufacturer - Hong Chiang Technology
Based in Taiwan since 2004, Hong Chiang Technology Co., LTD is a Optional Function Of Sushi Conveyor Belt | restaurant automatic system manufacturer that is specialized in providing conveyor belts for sushi bars and dine in restaurants, as well as straight line and turnable high-speed sushi trains. For sushi conveyor belts, there are magnetic, chain, optional and sushi plate. They also have food delivery robots and ordering systems.
Sold in over 40 countries, Hong Chiang has been focusing on various automated system development to help different restaurants and other industries reduce labor costs and increase competitive capacity. The unique ability to design and innovate new equipment for Automated Food Delivery System, especially "Bullet Train Delivery System (Sushi Train)" and "Sushi Conveyor Belt".
Hong Chiang Technology has been offering customers restaurant automated system since 2004, both with advanced technology and 18 years of experience, Hong Chiang Technology ensures each customer's demands are met.