Magnetic Conveyor belt
The most elegant Sushi conveyor.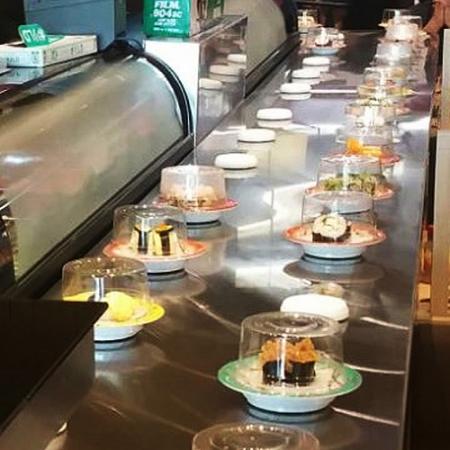 Magnetic induction style is whole lot different than t regular chain conveyor style. By using magnet suctions to transport plates on the countertop, just like a table, smooth and shine.The countertop for "Magnetic Induction Style" comes with various materials, such as: wooden, natural stone, artificial stone, glass, metal, or acrylic…etc., up to your choices based on stare or restaurant design.

"Magnetic Induction Style" countertops can also be light embedded, using IC to control the blinking of lights and color change, which could promote the environment and provide different feelings for the customers.

"Magnetic Induction Style" can be most changeable conveyor system, it becomes a piece of art in your kitchen when you are not using it, or it can turn into a table for regular use.
New trend is different from tradition.
Beautiful and well organized.
Easily adapt to corner space.
Use as a general desktop.
Optional cool lighting design.
Diversified material selection.
Magnetic Induction Sushi Conveyor System
Banquet Magnetic Sushi Conveyor in UAE
Magnetic Sushi Conveyor in USA
Magnetic Induction Style─ STAINLESS STEEL
Magnetic Induction Style─ Artificial Stone Style
---