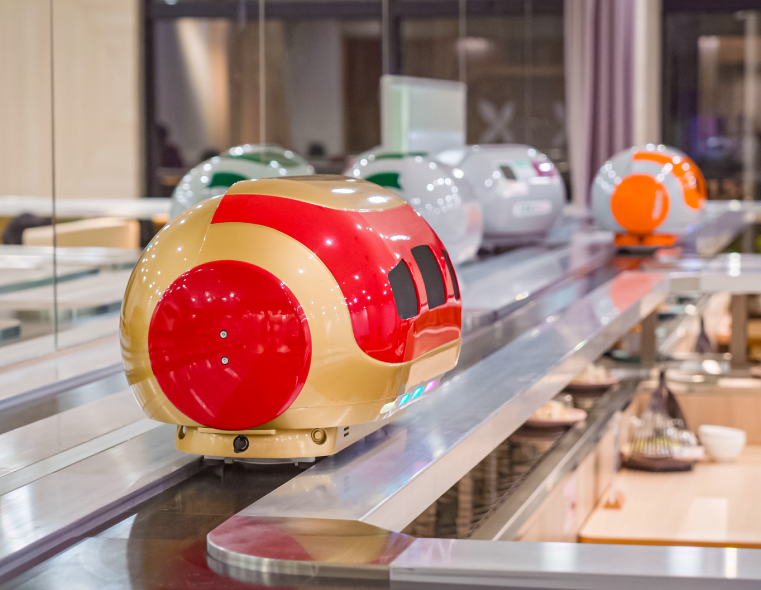 Food Delivery Robot - P series
World's smallest delivery robot. High efficiency, multiple car at same time. U-turn and special angles are all flexible.
"P Series" food delivery system contains C series features and moreover, it can do more! Multiple departure point (workstation), AI delivering path calculation, U-turn, fork road identifies…etc. which increasing the function to the next level.
P series can definitely be the fastest and most flexible delivery robot, because its AI calculating return path can automatically calculating and arranging through AI intelligent navigation. Several workstations with multitask function are applied. It can help improve work efficiency, shorten the overall dining time, and increase turnover effectively!

The sound & light reminder and automatic protective cover as pandemic-proof delivery to create your own features and a safe dining and working environment. In addition, you may also connect the delivery robot with ordering system to make your ordering and delivery process more technological, convenient, and smoother! If you prefer a special style of food delivery robot, you may discuss with our designer. We can also help you adjust the color and trademark on the robot to match your restaurant style!
---
Advantage
Unmanned food delivery, decrease the human delivery contact chance to the minimum
AI delivery route calculation, shortcut, U-turn, ford road, special angles are all possible
Multiple workstations enable the maximum work and food delivery efficiency
Fast and accurate positioning and delivery, increase the turnover rate
Stable speed prevents spillage or leaking.
Reduce personnel costs by about 50%
Avoid and reduce collision, splashing, burns and scalds risks
Customized design can create additional brand image
Increase the topicality and bring more customers form word-of-mouth marketing
MULTIPLE ROBOTS DELIVER SIMULTANEOUSLY
Support variety of delivery routes
Suitable for all types of restaurants
Food Delivery Robot System Structure Graphic
Specifications
Download
Download

Download
Food Delivery Robot - P series | Bullet Train Delivery System (Sushi Train)" and "Sushi Conveyor Belt Manufacturer - Hong Chiang Technology
Based in Taiwan since 2004, Hong Chiang Technology Co., LTD is a Food Delivery Robot - P series | restaurant automatic system manufacturer that is specialized in providing conveyor belts for sushi bars and dine in restaurants, as well as straight line and turnable high-speed sushi trains. For sushi conveyor belts, there are magnetic, chain, optional and sushi plate. They also have food delivery robots and ordering systems.
Sold in over 40 countries, Hong Chiang has been focusing on various automated system development to help different restaurants and other industries reduce labor costs and increase competitive capacity. The unique ability to design and innovate new equipment for Automated Food Delivery System, especially "Bullet Train Delivery System (Sushi Train)" and "Sushi Conveyor Belt".
Hong Chiang Technology has been offering customers restaurant automated system since 2004, both with advanced technology and 18 years of experience, Hong Chiang Technology ensures each customer's demands are met.